Ministry of Sound Feat. Example
Sat. 14 Sep, 2019 at 8:30pm - Sun. 15 Sep, 2019 at 3:00am AEST
AUD $15.00 - AUD $25.00
18 and Over
Get Tickets
Details
Comments
Event Stats
AUD $15.00 - AUD $25.00
18 and Over
Event Description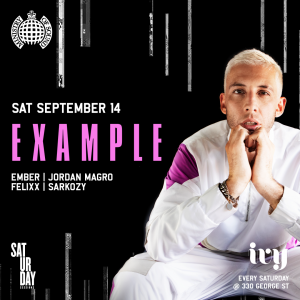 This September... Hitmaker Example is headlining at Ministry of Sound.

Tickets on sale now

Example isn't reinventing himself, he is going back to what he is about

He says: "After my deal with Ministry of Sound ended after 3 albums, I signed to Sony. Me and the Sony execs then spent a lot of time thinking and talking about what "direction" I should be going in, and not much time releasing music. So earlier this year we broke up, amicably, and I decided to set up my own label via AWAL/Kobalt, I just wanted to keep things simple, and do what I love doing – big club bangers which tell a story".

His latest project (suitably titled "Bangers and Ballads") is no exception. His new releases are "about having no rules anymore – being who I am and who I want to be, not pandering to the needs of record execs and radio playlists." His happiness with wife of 5 years (the model/presenter Erin McNaught) and two young boys shines through in pop ballads S1MPL3 and Headlights, Into Darkness alludes to a more difficult time of life for the artist, but club bangers like Sit Down Gary, Show Me How To Love and Back for More show us that for Example, the party is by no means over.

2019 will see Mr E.G. release a song a month. "Call it 12 separate singles or an album spread over a year. I don't care about playing the game anymore – I just want to have fun with my music again!"

There's something for everyone at ivy Saturdays, with Hip-Hop, R&B & Party tunes across the Pool & Changeroom,
View Everyone
Who's Going?

Alex M

Nicole M

Simon C

Ikar C

Andrzej P